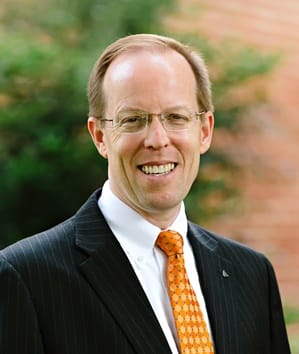 Rob B. Bell
---
Rob Bell is an honors graduate of the University of Virginia and the University of Virginia Law School.  At the Law School, Mr. Bell served as the Executive Editor of the Virginia Law Review and was selected for the Order of the Coif.  Following law school, Mr. Bell served for five years as a state prosecutor in Orange County, Virginia.
Mr. Bell joined Davidson & Kitzmann in 2005 and handles cases in all state and federal courts.  Since joining Davidson & Kitzmann, Mr. Bell has worked as a lawyer representing thousands of clients in court cases across the Commonwealth. 
In 2001, Mr. Bell was elected to the Virginia General Assembly as the Delegate from the 58th District, which includes Greene County and parts of Albemarle, Fluvanna, and Rockingham Counties.  As Delegate, he serves as the Chairman of the Courts of Justice Committee. He has also served as the Chairman of the Virginia State Crime Commission, which studies Virginia's criminal laws and makes recommendations to the Legislature. As Delegate, Mr. Bell has authored dozens of criminal laws, including laws dealing with drunk driving. sex crimes, and criminal procedure.
Mr. Bell lives with his wife Jessica, his son Robbie, and his daughter Evelyn in Albemarle County.
Email: rbb@dklawyers.com
Please note that the use of our contact form does not create an attorney-client relationship and therefore there is no attorney-client protection for the information you choose to submit to us.  As such, please do not submit any confidential or privileged information in the contact form.
We are located in Charlottesville, but our lawyers handle cases in Charlottesville, Albemarle County, Greene County, Fluvanna County, Louisa County, Nelson County, Madison County, Orange County, Roanoke, Harrisonburg, Staunton, Waynesboro, Augusta County, and across Virginia.
Davidson & Kitzmann, PLC
211 E High St
Charlottesville, VA 22902
Phone:  (434) 972-9600
Fax:  (434) 220-0011
© 2020 Davidson & Kitzmann, PLC